Nonprofit organizations have great complexities and operational challenges in their operations. Not for profit organizations use different applications and spreadsheets to manage their operations. Sometimes, their tools may not be effective, affordable, and may not meet their unique requirements. This leads to decrease in their operational efficiency. This is where the "NetSuite for Nonprofits" solution comes into play. NetSuite for Nonprofits is a cloud-based ERP application and it consists of following into a single system –
Nonprofit accounting
CRM (Constituent Relationship Management)
Fundraising
Inventory management
Enterprise resource planning (ERP)
eCommerce
NetSuite for Nonprofits is super flexible and allows Nonprofit organizations to manage their operations with ease.
Benefits of NetSuite for Nonprofits
Here are some of the benefits that NetSuite for Non-profits brings to the table –
NetSuite for Nonprofits optimizes your projects and grants initiatives for improved decision making.
Increases ease of accountability by automating accounting and grants management processes.
Improves fundraising and provides a complete view of volunteers, and donors by allowing you to engage with constituents and establish close relationships.
It provides improved opportunities to increase revenue, accept funding from donors, and build collaborative social communities.
It eliminates manual processes and streamlines your internal operations with automated workflows and approvals.
It provides a unified solution in one single application / database – freeing you from swifting through multiple systems. This also helps in better reporting and analytics as data stays in one single system.
Features of NetSuite for Nonprofits
NetSuite for Nonprofits has following key features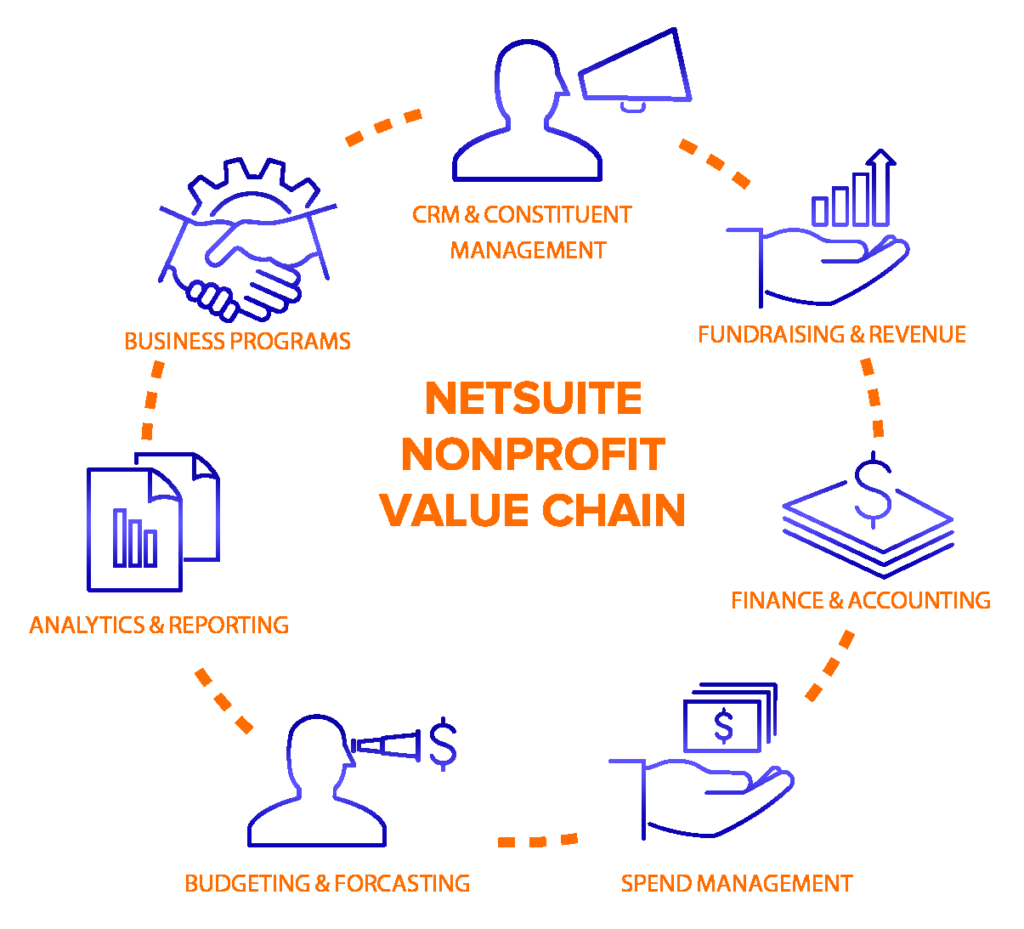 Constituent Relationship Management (CRM)
Fundraising & Revenue Management
Grants
Programs and Projects
Spend/Expense Management
Financial Management & Accounting
Budgeting & Forecasting
Global Accounting & Reporting
Automated FASB Reporting
KPIs, Dashboards, and Analytics
NetSuite for Nonprofits – NFP Financials
NetSuite for Nonprofits "NFP Financials" is the main bundle for Non-Profit SuiteSuccess editions. It provides modules like nonprofit accounting, constituent management, fundraising, and grants, etc.
NFP Financials is a SuiteApp and is updated automatically whenever enhancements are made or new features are added.
Setting up NFP Financials in your NetSuite for Nonprofits includes Installation of the SuiteApp and Configuration of settings in your account.
Know more about NetSuite for Nonprofits
Contact NS Success NetSuite Nonprofit Consulting team to learn more about NetSuite for Nonprofits and our affordable Non Profit offerings. We offer special non-profit discounts on our offshore NetSuite services.