Want to know which are the best Chrome extensions for NetSuite? Here is some help – in this post we are exploring some of the best NetSuite extensions on Chrome.
These Chrome extensions are very useful for NetSuite developers, NetSuite Administrators and NetSuite users too. These extensions are listed in the Chrome Extensions Directory when searching for NetSuite Chrome Extensions
1. NetSuite: Show Field IDs
Author: David Smith
Link: NetSuite Show Field IDs
Used to find fields and copy field id's.
Hover over NetSuite fields links to show their IDs.
To copy ID to clipboard use Shift + Click the link.
If you can't find that field and if you know ID – use Ctrl+Shift+F.
If you can't find that field and if you know the label – use Ctrl+Shift+L to find it by Label.
2. Netsuite: Search Export
Author: David Smith
Link: NetSuite Search Export
a. Used to export user's saved searches into Suitescript and is more useful for NetSuite Developers. b. If a NetSuite developer wants to use saved search in their code, open the saved search in "edit" mode in NetSuite and click on the "Export as SuiteScript" option at the right corner. Then users can see saved search code in both suitescript 1.0 and suitescript 2.0.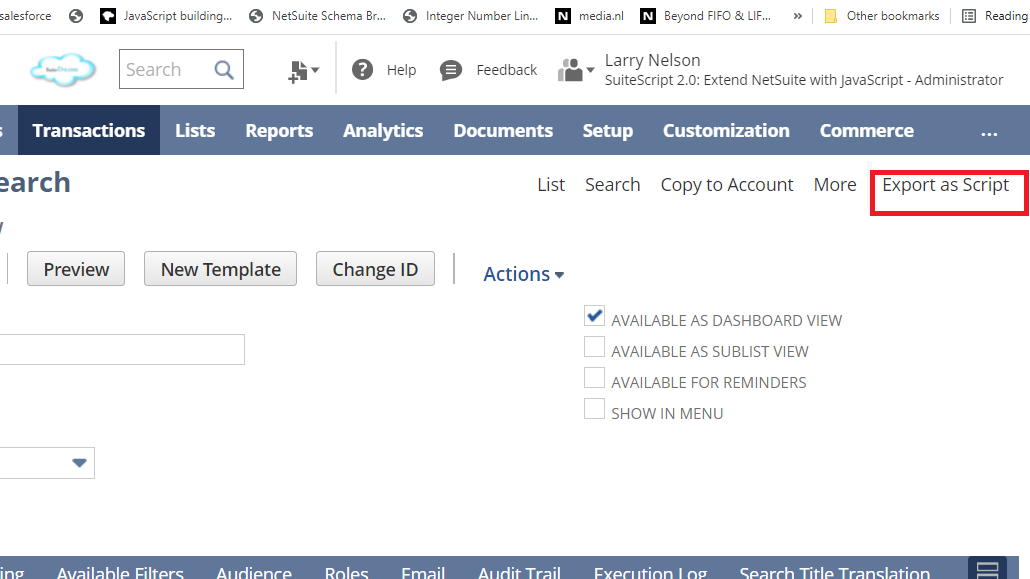 3. NetSuite Advanced Field Help
Author: marcelpestana.com
Link: NetSuite Advanced Help
Used to see advanced information like dropdown options, selected value and a link to copy field ID of the NetSuite fields.
By clicking any NetSuite field label user will be able to see the field description and its id. This extension adds more information about the field and users can also see the selected value and text. If the field is a drop down type then it displays all the list options and their internal ids. If the field is a custom field, it shows the field type and a link to the custom field.
Conclusion: There are many such extensions which can help improve the efficiency and effectiveness of NetSuite developers and users. We have selected the above tools because we used these tools and worked with them and found them useful. For more such tools you can search on NetSuite Chrome Extensions library.